Recipes: Issue 100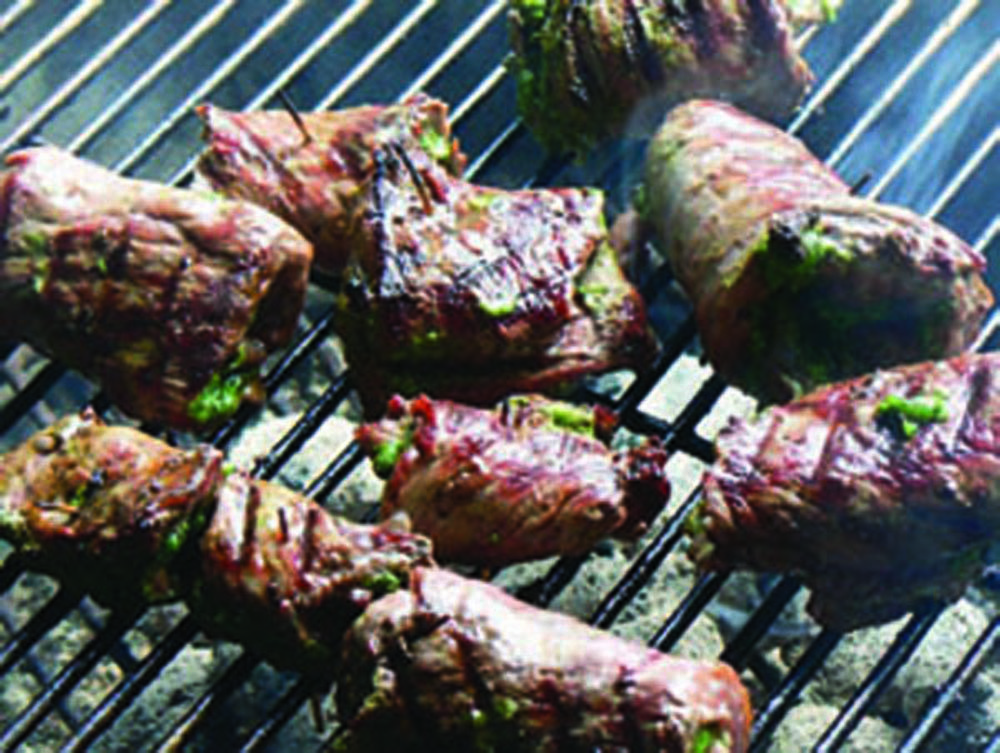 Quick Paleo Pancakes
The first recipe that I wrote for the Performance Menu was Apple Cinnamon Paleo Pancakes. They were tasty, but a bit cumbersome to cook. I have since perfected a much quicker method, while keeping the flavor.
Time: 10 minutes
• 2 eggs
• 1/2 C unsweetened applesauce
• 1/2 C nut butter (not peanut butter! - cashew/macadamia nut butter works well)
• 1/4 tsp cinnamon
• 1/4 tsp vanilla extract
• coconut oil
Mix all of the ingredients except the coconut oil in a bowl. Stir well, until you have a uniform batter. Next, use a bit of coconut oil to grease a non stick skillet. Spread some of the batter into the skillet to form a pancake, then cook over low/medium heat. Flip after 1 to 2 minutes, being careful not to burn them!
Once you've cooked all of your pancakes, you can serve them with a variety of toppings. A few that I like: chopped apples and cinnamon; heated blueberries; real maple syrup; and unsweetened applesauce.
Zone info: 3 servings at 1/2 carb block, ~1/2 protein block, 15 fat blocks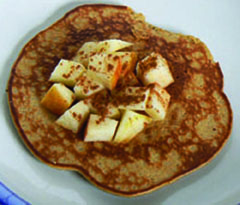 Chocolate Dipped Bacon
Here is a simple treat to bring to potlucks and parties. You'll only want to dip half of the bacon so that it will be easier to eat without getting chocolate all over your fingers!

Time: 12 minutes
• sliced bacon
• 1 bar dark chocolate (85% cacao)
• optional: dash of cayenne powder
Cook the bacon in a skillet until browned but not too crisp. Drain the grease and pat the bacon dry with a paper towel. Allow to cool.
Heat the chocolate in a small pan over low-medium heat. Add the cayenne if using; mix well. Dip both sides of half of the bacon into the chocolate, then place on wax paper. Refrigerate to solidify the chocolate.
Nutritional info: 1 slice will be about 2g carb, 13g fat.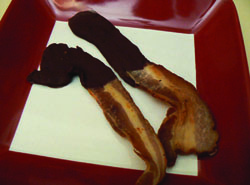 Portabella Burgers
Portabella mushrooms can make good substitutes for hamburger buns. Here is a simple hamburger meal Rochelle and I whipped up in our cabin on our recent honeymoon. We just used one mushroom for the bottom "bun", but you could use two if you'd like it to look a bit more traditional.
Time: 20-25 minutes
• 3 portabella mushrooms
• 1 lb ground buffalo (or beef, turkey, etc.)
• 6 slices tomato
• lettuce
• 1/4 C chopped onion
• 2-3 cloves chopped garlic
• 1 Tbsp olive oil
Put the ground meat into a bowl, add the onion, garlic, pepper, and any other spices that you wish. Mix well, then form into three patties. Place the olive oil in a skillet, cook the patties, flipping often, until done to your liking. I like to flip the meat often to prevent any excessive browning, and serve it done rare. Set the burgers aside when done, covering with a plate so that they stay warm.
While the burgers are cooking, prepare the "buns" and any vegetables that you wish to top the burgers with. You'll want to cut the stems out of the mushrooms first, but you can save them to use in a different meal if you wish. We just had tomato and lettuce on hand to top these burgers with, but you can garnish your burgers any way you like.
Place the mushrooms into the skillet that you used to cook the burgers, cooking for around 2-3 minutes per side in the juices from the meat. Plate the mushrooms then add the meat and condiments of your choosing. A bit of steamed broccoli rounded out this particular meal.
Zone info: 3 servings at 6 protein blocks, 4 fat blocks (this will vary with your selection of meat), carbs are negligible.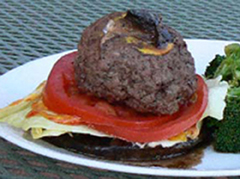 Pork Chops with Currant Reduction

Time: 25 minutes

• 1 1/2 lbs pork sirloin chops
• 2 Tbsp coconut oil or bacon grease
• sea salt and fresh ground pepper
• 1/2 cup red wine vinegar
• 1/4-cup beef broth
• 4 Tbsp red currants (huckleberries or blueberries can be substituted)
• 1 Tbsp chives, chopped
• 2 Tbsp pineapple
• 1 tsp diced jalapenos
Preheat the oven to 400 degrees. Grease or oil a large oven-safe skillet and place it in the oven. Use the remaining oil to prepare another skillet; bring to medium heat on the range.
Meanwhile, either crush the pineapple and jalapeno together in a small bowl, or use a small food processor to chop well. Set aside.
Season the pork chops with salt and pepper, then sear for 2 minutes per side in the stovetop skillet. Transfer the seared pork to the skillet in the oven, bake for 15 minutes.
Add the red wine vinegar to the stovetop skillet and de-glaze for 2 minutes. Add the remaining ingredients and stir. Reduce until thickened. Top the pork with the reduction and serve.
Nutritional info (2 servings): 7g carb, 43g protein, 43g fat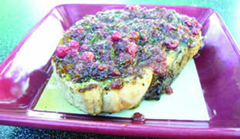 Flank Steak Pesto Rollups
It's finally summertime - time to fire up the grill! While you grill these up, consider grilling some squash or other veggies to go with it for a complete meal.

Time: 20 minutes
• 7 garlic cloves
• 1/3 C olive oil
• 1/3 cup pine nuts
• 1/2 bunch of parsley
• 1 C arugula
• pepper to taste
• 1 1/2 lb beef flank steak, preferably grass fed
In a blender, puree the garlic, pine nuts and the olive oil. Add the parsley and arugula, continue blending until a creamy pesto has formed.
Cut the steak into strips about 2-3 inches wide. Lay them out on a plate, then top each steak strip with the pesto. Roll up the meat, starting at the smaller end. Shove a toothpick thru the roll to hold it tight.
Place on the grill, cooking for around 3 minutes. Turn the roll over, cook around 3 minutes more. Remove and serve.
Zone info: 6 servings at 4 blocks protein, 11 blocks fat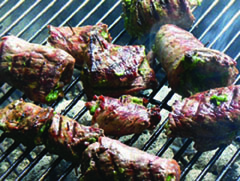 Lemon Garlic Broccoli
Time: 10 minutes
• 1 bunch broccoli (3 heads)
• 1 Tbsp coconut oil or bacon grease
• 2 cloves garlic, minced
• 1/3 cup water
• 2 lemons
• sea salt and fresh ground black pepper
Cut the broccoli florets into small pieces. Meanwhile, heat the oil in a skillet over medium heat. Saute the broccoli and garlic until it is bright green; around 2 minutes. Add the water, then cover and steam for 5 minutes. Add the juice of one lemon, plus the salt and pepper. Serve with a couple of fresh lemon wedges.
Nutritional info: 3 servings at 5g carb, 4.5g fat

Fall Squash Salad

Time: 35 minutes
• 1 Delicata squash
• 3 1/2 Tbsp olive oil (divided)
• 2 tsp lemon juice
• 1 tsp Dijon mustard
• 2 tsp balsamic vinegar
• 1 tsp lemon peel
• 2 Tbsp pine nuts
• sea salt
• veggie mix - 8 mixed cups of the following fall vegetables: Lacinato kale, Curly kale, chard, radicchio, frisee.
Preheat your oven to 350 degrees. Cut the squash in half lengthwise, then scoop out the seeds. Chop the squash into cubes, then toss with 2 Tbsp of olive oil in a roasting pan. Sprinkle with sea salt if you like. Roast for 30 minutes, tossing every 10 minutes or so.
Meanwhile, chop your veggies, then toss them in a large salad bowl. I used a wide variety of seasonal greens from a farmer's market here; you might not want to track all of these down. Your salad will still be good with just a couple of the above.
Next, make the dressing. In a small dish, add the remaining 1 1/2 Tbsp of olive oil, lemon juice, Dijon mustard, balsamic vinegar, and lemon peel. Mix well, then add to the salad. Toss well, then transfer the salad to serving plates.
Once the squash is done, allow it to cool for 5 minutes. Top the salad with the squash, then scatter 1 Tbsp of pine nuts over each serving.
Zone info: 2 servings at 3.5 carb blocks, 19 fat blocks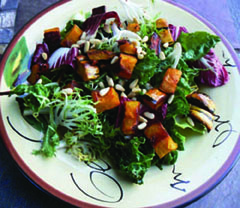 Carrot and Blackberry Slaw
Here is a simple slaw using fresh blackberries. I like to pair this with some protein and use it as a post workout meal after a workout with a low glycogen demand. The molasses add flavor, plus it's a rich source of manganese and magnesium.

Time: 3 minutes
• 1/2 bag of shredded carrots (or ~2 cups if you shred your own)
• 3/4 cup blackberries
• 2 tsp molasses
• 2 tsp balsamic vinegar
• sea salt
Add all of the ingredients to a bowl. Mix well.
Nutritional info: 1 serving at 31g carb.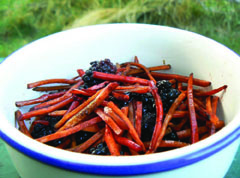 Blueberry Pie
A grain-free pie! Not only that, no omega-6 fats.
Look for tapioca spring roll sheets in the Asian food section of nearly any grocery store; just be sure tapioca is the only ingredient besides salt and water. I also used dextrose instead of sugar to keep the fructose content of the pie low.

Time: 40 minutes
• 1/2 package of tapioca spring roll sheets
• coconut oil
Filling:
• 4 cups blueberries
• 1 Tbsp dextrose
• 1/2 tsp cinnamon
• 1/4 tsp cloves
• 1/4-1/2 tsp sea salt
• 1-1 1/2 Tbsp arrowroot powder
Topping:
• 1 tsp dextrose
• dash cinnamon
Remove about one quarter of the tapioca sheets from the package. One at a time, add these sheets to a pan of lukewarm water. Soak for 2-3 minutes, and then remove the sheets, drying with cheesecloth or something similar as you do.
Rub the bottom and sides of a pie tin with a bit of coconut oil. Now, lay the dried sheets on the bottom of your pie tin, staggering them so that both the bottom and the sides are covered. When done, it should look pretty much like a normal pie crust.
Add the blueberries and all of the filling ingredients except the arrowroot to a medium saucepan. Bring up to a boil, stirring. Reduce to a simmer; then, stir the arrowroot in slowly. Allow the blueberry mix to thicken until it has the consistency of gravy.
Pour the filling into the pie. Now, repeat the soaking and drying process with another quarter of the tapioca sheets. Lay these over top of the filling. Fold the edges for a nicer appearance, much like you would for any normal pie crust. Cut 4 slits through the top crust so the pie will vent while cooking. Finally, rub coconut oil over the top of the pie crust. Place the pie in the refrigerator to cool and thicken.
When it is close to time to serve the pie, pre-heat your oven to broil. Place the pie in the oven with the door open. Broil for 5-8 minutes until the top of the crust begins to brown and becomes crispy. While the pie is in the oven, mix 1 tsp of dextrose and a dash of cinnamon in a small bowl. When the pie is done, remove and dust the top with this mixture. Serve warm.
Nutritional info: 6 servings at 35g carb, 1.5g fat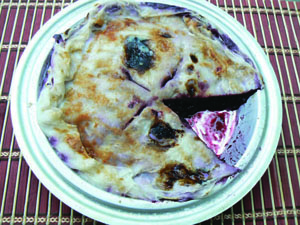 Spicy Cucumber Shots
Though I know most of you are very dedicated to your health and performance, I also know that many like to loosen up on occasion and have a drink. Here is a kind of fun idea if you are hosting a gathering and staying somewhat Paleo. You'll make shot glasses out of cucumbers! The "glasses" hold about 1/3rd of a real shot.
• large cucumbers
• sea salt
• chili powder
• cayenne pepper
• premium tequila
Peel the cucumbers. Carefully cut the ends of the cucumbers off; they will be the bottoms of your cucumber shot glasses. Don't cut too deeply or they may leak once you add the tequila. Cut crosswise again about 2 ½" up from that. With a paring knife, carefully remove the seeds and some of the cucumber to create a small glass. Be careful not to cut too deeply.
In a small dish, add sea salt, chili powder, and cayenne pepper to taste. Keep the cayenne on the light side unless you want it to be nice and spicy hot! Roll the edges of your cucumber glasses in the spice mixture.
Fill the cucumbers with tequila. Set them on a plate carefully and chill in the refrigerator until ready to serve. You can even allow them to sit overnight if you like. Enjoy!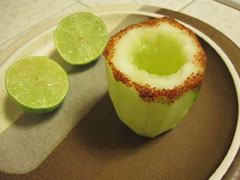 Scott Hagnas is owner of CrossFit Portland. He is certified as a CrossFit level 2 trainer and Circular Strength Training (clubbell) instructor. He has been riding BMX flatland for 26 years and counting and has filmed/produced/edited several series of BMX videos, plus several training videos. He formerly competed in bicycle trials, placing second in amateur in the World Championships in 1990. Cooking is one of his favorite pastimes.

Search Articles
---
Article Categories
---
Sort by Author
---
Sort by Issue & Date
---