Individualized CrossFit Program Design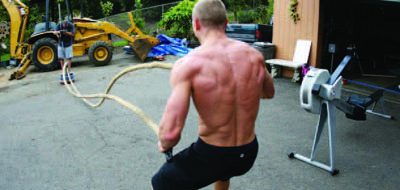 Crossfit is my sport. I train others to treat it as such. Combining a background of program design knowledge, a comprehensive body fat measurement protocol, alternative medicine assessment tools, and an in-depth lifestyle/nutrition design has enabled us to use Crossfit and individualize it for each and every person effectively.
I started using Crossfit in program design three years ago with all ranges of clientele. Previous to that I used a mixture of various protocols depending o...
Log in or Subscribe to continue reading.
James FitzGerald is the founder of OPEX Fitness (formerly OPT) and The International Center for Fitness. His 20+ years of experience and service as a strength coach/technician, tireless practice on refining energy system work, nutritional and lifestyle balancing techniques and training of other coaches has made OPEX a sought after method of bringing fitness to a Higher Order. James has a desire and passion to understanding fitness through assessment, testing, research, programming and more. He has years experience as an athlete from early childhood into adulthood, from playing top level soccer, short and long distance running to CrossFit where he was crowned "The Fittest on Earth," and winner of the 2007 CrossFit Games. When not coaching, he's a full time husband, father and fitness athlete."

1 Comments
Chris Bellette
May 21 2013 7:17 pm
Hi James,

Thank you for your article! I've been following you for a bit on Big Dawgs and have started a training journey based on similar principles to what you wrote here. I hope to do your coaching course and learn off you someday...I'm in Australia :)

Take care brother, keep kickin A!

Chris
Log in or Subscribe to post a comment
Search Articles
---
Article Categories
---
Sort by Author
---
Sort by Issue & Date
---