Weightlifting News: Issue 135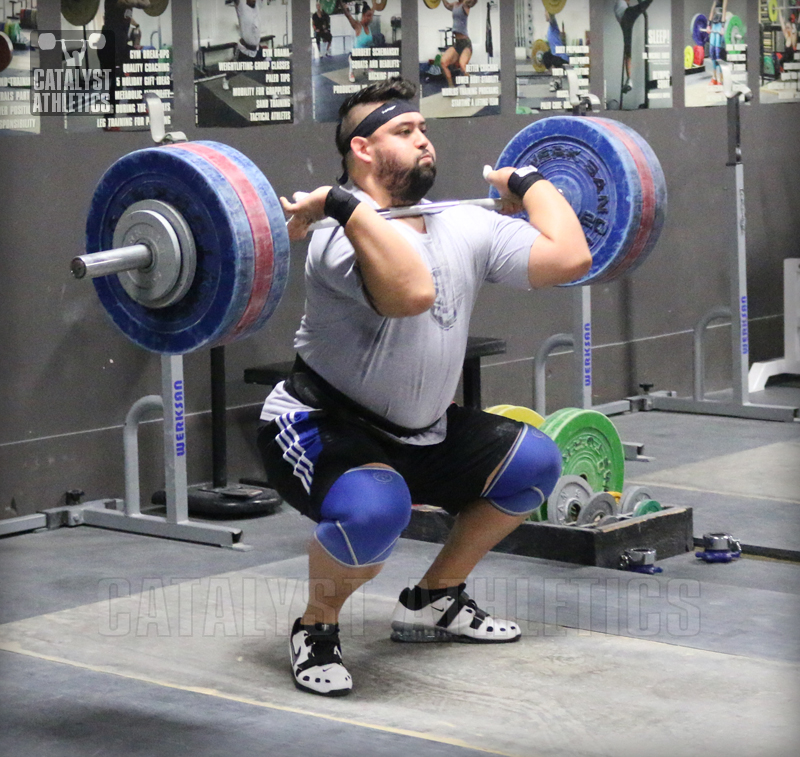 Upcoming National Meets
May 5-8- USAW National Championships and US Olympic Team Trials (Salt Lake City, UT)
June 23-26- 2016 National Youth Championships (Austin, TX)
Upcoming International Meets
June 4-11 Pan American Championships (Barranquilla, Colombia)
June 24- July 2 IWF Junior World Championships (Tbilisi, Georgia)
August 5-16 Olympic Games (Rio de Janeiro, Brazil)
October 20-25 IWF Youth World Championships (Penang, Malaysia)
November 13-17 FISU World University Championships (Merida, Mexico)
Catalyst Athletics Certifications
April 23-24 Richmond, VA
Registration
May 28-29 New York, NY
Registration
June 18-19 Madrid, Spain
Registration
July 9-10 Manchester, England
Registration
August 6-7 Noordwijk, Netherlands
Registration
September 17-18 Johannesburg, South Africa
Registration
October 1-2 Omaha, NE
Registration
USAW Certifications
(all certifications are level 1 SPC unless indicated "ASPC" before course instructor's name)
April
2-3 Carlsbad, CA (Erik Blekeberg)
2-3 Lamarie, WY (Randy Hauer)
2-3 Los Angeles, CA (Sean Waxman)
2-3 Raleigh, NC (Harvey Newton)
2-3 Rockaway, NJ (Michael McKenna)
8-9 Bridgewater, VA (Jami Willette-Brown)
8-9 St. George, UT (Daniel McDermott)
9-10 Auburn, AL (Jeremy Shepard)
9-10 Bryn Mawr, PA (Michael McKenna)
9-10 Central Valley, NY (Rustico Mirasoi)
9-10 Fayetteville, NC (Michael Cohen)
9-10 Liberty Lake, WA (
ASPC
Michael Conroy)
9-10 San Diego, CA (David Miller)
9-10 San Juan, Puerto Rico (Daniel Camargo)
9-10 Schaumburg, IL (Roger Nielsen)
9-10 Wilmington, NC (Walter Neubauer)
16-17 Boulder, CO (
ASPC
Randy Hauer)
16-17 Brooklyn, NY (
ASPC
Michael McKenna)
16-17 Buford, GA (Christian Stockel)
16-17 Elk Grove, CA (Jim Schmitz)
16-17 Farmville, VA (Jason Davidson)
16-17 Findlay, OH (Reginald Hodges)
16-17 Gainesville, FL (Joseph Hanson)
16-17 Lewisville, TX (Richard Flemming)
16-17 Louisville, KY (Ben Carter)
16-17 Omaha, NE (Whitney Rodden)
16-17 San Diego, CA (Patrick Cullen-Carroll)
16-17 San Antonio, TX (Stephen Galvan)
16-17 Wilton, CT
23-24 Cordova, TN (Thomas Greenstone)
23-24 Charlotte, NC (
ASPC
Glen Pendlay)
23-24 Fresno, CA (Patrick Cullen-Carroll)
23-24 Houghton, MI (Vance Newgard)
23-24 Houston, TX (Richard Flemming)
23-24 MCAS Cherry Point, NC (Dave Kemble)
23-24 Nampa, ID (Patrick Corbett)
23-24 Philadelphia, PA (
ASPC
Michael McKenna)
23-24 Rotterdam, Holland (Mark Cannella)
23-24 Statesboro, GA
23-24 Waite Park, MN (Chris Rousemiller)
23-24 Wyoming, MI (
ASPC
Frederick Lowe)
30- May 1 Baltimore, MD (Michael McKenna)
30- May 1 Biloxi, MS (Jason Poeth)
30- May 1 Davie, FL (
ASPC
Mark Cannella)
30- May 1 Enfield, CT (
ASPC
Gary Valentine)
30- May 1 Fullerton, CA (Daniel McDermott)
30- May 1 Kalamazoo, MI (Frederick Lowe)
30- May 1 San Francisco, CA (
ASPC
Jim Schmitz)
30- May 1 San Rafael, CA (Jasha Faye)
30- May 1 Tampa, FL (Daniel Camargo)
May
14-15 Albuquerque, NM (Joaquin Chavez)
14-15 Augusta, ME (
ASPC
Christopher Polakowski)
14-15 Belgrade, MT (Jasha Faye)
14-15 Bridgeville, PA (Mark Cannella)
14-15 Chicago, IL (Roger Nielsen)
14-15 Fayetteville, NC (Glen Pendlay)
14-15 Fleming Island, FL (
ASPC
Joseph Hanson)
14-15 Florence, AL (Jason Poeth)
14-15 Jeffersonville, IN (Christopher Cleary)
14-15 Garland, TX (Richard Flemming)
14-15 Laredo, TX (Stephen Galvan)
14-15 Orchard Park, NY (Michael Cohen)
14-15 Round Rock, TX (Ursula Papandrea)
14-15 Sandy Springs, GA (Rachel Bommicino)
14-15 Scottsdale, AZ (Patrick Cullen-Carroll)
14-15 Sheboygan, WI (David Gremore)
14-15 Spartanburg, SC (
ASPC
Alex Koch)
20-23 Lake Placid, NY (OTC with R/B available, Christopher Polakowski)
21-22 Bethesda, MD (John Filippini)
21-22 Franklin, MA (Ellyn Robinson)
21-22 Grayslake, IL (
ASPC
Michael Gattone)
21-22 Houston, TX (Ursula Papandrea)
21-22 Lake Mary, FL (Danny Camargo)
21-22 McSherrytown, PA (Michael McKenna)
21-22 Radford, VA (
ASPC
Daniel Rose)
21-22 Sacramento, CA (Don Ricci)
21-22 Savannah, GA (Michael Cohen)
21-22 Seattle, CA (Michael Reams)
21-22 Spokane, WA (David DeLong)
28-29 Glendale, AZ (James Schmitz)
June
3-4 Philadelphia, PA (Michael McKenna)
3-6 Colorado Springs, CO (
ASPC
at OTC with R/B available, Paul Fleschler)
4-5 Grand Junction, CO (Randy Hauer)
4-5 Miami, FL (Daniel Camargo)
11-12 Boise, ID (Daniel Fischer)
11-12 Brooklyn, NY (Michael McKenna)
11-12 Charleston, SC (
ASPC
Daniel Rose)
11-12 Fullerton, CA (
ASPC
Patrick Cullen-Carroll)
11-12 Fuquay-Varina, NC (Jason Davidson)
11-12 Keller, TX (Richard Flemming)
11-12 North Vancouver, BC (Patrick Corbett)
11-12 Piedmont, SC (Richard Lansky)
11-12 Rockville, MD (Jami Willette-Brown)
11-12 Winston-Salem, NC (Walter Neubauer)
18-19 Brooklyn, NY (
ASPC
Peter Roselli)
18-19 Palmetto, FL (Daniel Camargo)
18-19 Selma, TX (Ursula Papandrea)
24-25 Edmond, OK (Tom Cross)
24-25 Friendswood, TX (Kyle Pierce)
July
9-10 Chambersburg, PA (Michael McKenna)
9-10 Commack, NY (Gary Valentine)
9-10 Denton, TX (Richard Flemming)
9-10 Fayetteville, NC (Glenn Pendlay)
9-10 North Myrtle Beach, SC (Walter Neubauer)
9-10 St. Louis, MO (Justin Thacker)
9-10 St. Petersburg, FL (Daniel Camargo)
16-17 Grayslake, IL (Michael Gattone)
16-17 Royal Palm Springs, FL (
ASPC
Daniel Camargo)
16-17 Wappingers, NY (Michael McKenna)
23-24 Huntington Station, NY (
ASPC
Mark Cannella)
23-24 San Luis Obispo, CA (James Schmitz)
23-24 San Leandro, CA (Kevin Doherty)
30-31 Bethesda, MD (John Filippini)
30-31 College Station, TX (Jack Gaines)
August
6-7 Newtown Square, PA (Michael McKenna)
6-7 Phenix City, AL (Jeremy Shepard)
13-14 Spokane, WA (David DeLong)
20-21 Huntington Beach, CA (Daniel McDermott)
20-21 Redmond, WA (
ASPC
Michael Conroy)
27-28 Brooklyn, NY (Michael McKenna)
27-28 Westlake Village, CA (Mark Cannella)
September
10-11 Little River, SC (Walter Neubauer)
10-11 Miami, FL (Danny Camargo)
17-18 Annvile, PA (Michael McKenna)
17-18 Fort Worth, TX (Jack Gaines)
17-18 Glen Burnie, MD (John Filippini)
24-25 Brooklyn, NY (Michael McKenna)
24-25 Philadelphia, PA (Ryan Marciniszyn)
October
1-2 Tampa Bay, FL (Danny Camargo)
8-9 Bethesda, MD (
ASPC
John Filippini)
15-16 Farmington Hills, MI (Danny Camargo)
22-23 Brooksville, FL (
ASPC
Danny Camargo)
29-30 Brooklyn, NY (Peter Roselli)
November
2-3 Orchard Park, NY (
ASPC
Michael Cohen)
12-13 Columbia, PA (Michael McKenna)
December
17-18 Brooklyn, NY (
ASPC
Michael McKenna)
International Competition Results
See the results of the IWF Grand Prix: Russian Federation President's Cup
here
.
Other Notable Articles
"How Does America Medal in the Olympics" by Travis Mash
Sam Holmes (USAW Level 1 SPC) is entering his fourth year in the sport of weightlifting. His hope is to use the experience he has gained so far as well as his passion for the sport and for helping people to make an impact in as many ways as possible.

Search Articles
---
Article Categories
---
Sort by Author
---
Sort by Issue & Date
---